Grand River Lodge - Testimonials
Here's what a few of our customers have had to say about us.
Have a testimonial of your own to share?
Send a Testimonial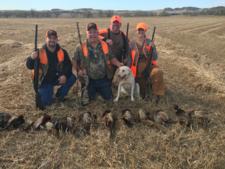 Reid Loveless
October 2019 - Blythewood, SC
We just finished a 3 day pheasant hunt and it was such a great experience! We ended up with 2 1/2 limits of pheasants and some sharp tail grouse. The land is gorgeous and it's full of whitetail deer, mule deer, antelope, and various game birds. The lodge is spacious and very comfortable. Chuck and his dog Sam were our guide and you couldn't ask for any better. Chuck is a fantastic person and a very experienced hunter...oh and he cooks a mean bacon and eggs! You won't find a better dog than Sam. I've been all over this country hunting and she is hands down the best dog I've had. The owners, the Schileys, are wonderful hosts. They're very polite and make you feel right at home. If you're looking for a place to upland hunt or to hunt big game, you should ABSOLUTELY consider coming to Grand River Lodge.
Kenneth Evans
Fall 2019 - Charlotte TN
If there was a 10 star rating, this ranch deserves it. I had the pleasure of pheasant hunting the Grand River Ranch for three days late Sept. It is run By Roy and Karin. I stayed in what I call the "bunk house" which had everything I needed. Very spacious. Several bedrooms and 3 bathrooms, a large kitchen and living room. Chuck and his dog Sam were my guides. The views all around are just spectacular and I took lots of pictures. Chuck kept up with crop conditions each day. He and Roy communicated very well and Chuck knew the farm. I shot 6 pheasants and Chuck got three which was my limit. The chef (Karin) should get a raise! The food was home cooked and I suspect most raised on the farm. The meals were outstanding and I enjoyed each one. The folks there are very warm and friendly and we had several interesting conversations on farming etc. They treated me like a friend instead of a customer. When I go pheasant hunting again you can be assured it will be at the Grand River Ranch. Thanks so much to all the great people I met there. You provided me with memories that will last my lifetime.
Sherwin Koning
Fall 2018 - Jenison, Michigan
Karin and Roy gave us an fantastic experience that we are never going to forget. The lodging and meals were great. We had a large group that they were able to accommodate. I highly recommend!
Mike Metz
Fall 2017 - Burlington,WI
I have had the privilege to hunt the Schiley's ranch for several years and every stay has been the highlight of my hunting season. Karin and RJ go above and beyond to make your experience memorable. From the hunting, accommodations, or Karin's wonderful home cooked meals I would highly recommend a stay at Grand River Lodge.